Technically this round ends in about an hour or so but I want to go to bed so I'm updating the thread now.
First off - announcing the results of the first semifinal match!
RESULTS
S1:
HAUNTER
def. Pikachu (11-5)
Unfortunately the last minute surge wasn't enough to push the little rodent over the line: but congratulations to the first finalist, HAUNTER and his sponsor,
DragoBoy
who will be moving onto the finals. We'd also like this chance to offer our condolences to Cherrygrove and his Pikachu, who had a great run knocking out some formidable foes including the wildly popular Diglett, the 4th seeded Nidoking and of course fan favourite Beedrill in the Quarterfinals.
But now before we introduce our next matchup.. please make very welcome Charizard's sponsor, the entertaining Shuckle-rock$!
DragonPhoenix: Thanks once more for taking the stage with us. Last time you were here we talked mainly about your superstar sponsoree Charizard, so now let's shift the microscope over to you: what are some of your interests and things you enjoy outside backing the fiery dragon?
Shuckle-rock$:
Some of my interests are trains, Bloons Tower Defense, and music in general. My favorite music is Classic Rock, plain Rock, and Progressive music, with Rush being my favorite band.
DragonPhoenix: Great taste in music I gotta say
(actually though.. I only know one Rush song..)
, and I myself have been enthralled with Tower Defense in the past! But I am wanting to know though - how did your interest in Pokemon start? Where did it stem from?
Shuckle-rock$:
I first got into it when my sister let me play her Firered game, and I was pretty much addicted ever since.
DragonPhoenix: And I'm sure all our viewers are wildly curious: how did you find Psypoke?
Shuckle-rock$:
Before Psypoke, I used to use this site called Pokedream for all of my help, but it was very unreliable since lots of the info was outdated and there were too many popups and ads. One day, I did a random search for something that Pokedream didn't have and I stumbled on Psypoke. It was (and is) so much more reliable that eventually, I left Pokedream forever and Psypoke became my main site.
DragonPhoenix: Props must go out to the webmasters behind the site for keeping the resource error free then! Now obviously we know you're a fan of Charizard... but if this competition was expanded to all 693 Pokemon, who would be your top pick?
Shuckle-rock$:
My favorite Pokemon would have to be Shuckle because it looks like a worm, and I think worms are freakishly cool. And speaking of Shuckle, that's what my username on Psypoke is based on. The Rock part is from it being part-rock, and the $ is just to make it look cool.
DragonPhoenix: Ahh finally! The secret behind the dollar sign. For all your fans out their you've finally revealed the story behind it! Anyway.. back on track.. Have you been impressed with Charizard's progress so far? Do you think he can go all the way?
Shuckle-rock$:
I thought I was pretty much doomed last round from Blastoise, but somehow Charizard managed to pull through! I'm slightly worried about Arcanine though, since he's also cool-looking too and has some good moves. But I have a plan for him that will (hopefully) work...
DragonPhoenix: Ohh of course, we wish you the very best with that plan and hopefully it falls into place! Now say you do win... what's the first thing on your shopping list? Anything you've been dying to buy?
Shuckle-rock$:
If I do win this game somehow, then I wouldn't be too sure on what to do with all the money. I might spend it on an actual product in the future or save it for prize money. Either way, I won't waste it all on lottery money
. Anyway, this game has been fun, and I hope something as big as this happens again sometime (but not really soon since I need a break from the action).
DragonPhoenix: Haha you don't need to tell me that! I myself will be taking an extended holiday - maybe if you're going to be around the Sinnoh area I'll see you around.. But best of luck to both yourself and Charizard, and soon we'll be able to see if the fiery lizard can take it to the majestic dog.
And speaking of the majestic dog.. coming up next we're going to have a chat with the sponsor of the 2nd seeded Arcanine... please welcome to the studio the one the only ShinyLucario!
DragonPhoenix: Hey hey and welcome back to the show, ShinyLucario! Now most of us know that you're a bit of a reserved person - so this interview is just a chance for a few of us to get to know the brains behind Arcanine's every move. Why don't you tell us a bit about yourself?
ShinyLucario:
Um, hi, I'm a 15-year-old guy from Malaysia, a humble country in Southeast Asia – Singapore's neighbour, in fact. Well in fact, Singapore was once part of Malaysia – but we mustn't get into political geography now! BTW, English is actually not my first language, but I've been improving the more I use it – written (typed, rather), that is. Verbal – not even close ;v;
DragonPhoenix: I tell you what, I would have never been able to tell! Your posts are constructed far more legibly than most English speaking forum members here (except everyone participating in this thread of course
).. Now apart from going through battle strategies with Arcanine, what other interests do you hold?
ShinyLucario:
My interests? I like to listen to music (mostly classical), play the piano, draw (traditionally – for now), and read books. I also have a growing interest in writing, and I hope to get into some forum RPGs!
DragonPhoenix: They're some varying interests right over here! Looks and sounds like you're an all-rounder to me. Some of the forum RPGs can be wacky fun, I'd say just take the plunge and jump into it! Now just re: Pokemon, we're just all interested on how you started off into the series in the first place?
ShinyLucario:
It all started in kindergarten when a classmate gave me a Slowbro card…*cue nostalgic flashback music*…except not really. Fast forward to one or two years later – I have a good friend who was quite a PokeFan and had a lot of anime VCDs. It was thanks to him that I gained this irresistible addiction!
DragonPhoenix: So which sets of games were your first then? Do you have a favourite?
ShinyLucario:
My first and still only

legit

Pokemon game is Sapphire, so it's only natural that I have a lot of nostalgia when it comes to Hoenn. Ah…those beautiful and varied landscapes, the fascinating Pokemon, the theme of "relationships" between people and nature… Ahem, back to topic. I always keep myself up-to-date with the freshest Pokemon news, but never actually playing the new games is quite a shame. That been said, I really love Black/White and the new Black 2/White 2 from what I've seen so far, and I really, really love the tearjerking stories in Explorers of Sky!
DragonPhoenix: Tell me about it! I may have not played Explorers of the Sky but when I went through Red Rescue Team I didn't think I'd be so attached to an NPC character.. anyway... you may have heard me chat to Shuckle-rock$ before about me taking a holiday.. do you have any travel recommendations for me? Which regions are you favourites?
ShinyLucario:
While each region has its own flairs, I gotta say that Hoenn and Unova stand out to me especially.
DragonPhoenix: And how about your favourite Pokemon?
ShinyLucario:
Oh my, that's probably the toughest question anyone can throw at me. Even if you sort it by regions or types I would still have a hard time deciding! As a general rule I like Pokemon that can hit swift and hard – my sposor-ee Arcanine here is a great example. Others that immediately comes to mind are Lucario, Flygon, Absol, Serperior, Lapras, Metagross, Kyogre, and… [30 minutes later] Wait, how much time do we have left? Moving on~
DragonPhoenix: Don't worry about time limits here, we're ready to listen for as long as you wanna talk.. now I was just wondering, how did you manage to stumble across Psypoke?
ShinyLucario:
I was drawn here by the Sunyshore Market – quite a busy place back then…*sigh* I somehow even got my dad's signature to join! To be completely honest the Psypoke forum was a…interesting choice since I don't really use Psypoke that much (if at all), but I must say this has been a really unique experience.
DragonPhoenix: Yes, I don't think you get the same feeling anywhere else. Upon signing up, how did you manage to decide on your screen handle?
ShinyLucario:
ShinyLucario is kind of a strange name. I was (and still is) a Lucario fan so that part's clear, but Shiny… I randomly came up with it when things like "LucarioKing" had been taken. I like Lucario's normal color just as well, if not more! Nevertheless, this name began to grow on me and I came to discover that the acronym SL has an interesting use… *cough
ShadowLugia
cough* Err, what was that? Nope, nothing at all, none. Moving along!
DragonPhoenix: Alright, so now we'll have a brief chat about your opponent. Do you think you have a solid chance at the title?
ShinyLucario:
I'm still a little jittery since Charizard is, well, the Charizard, but if Arcanine can push through this mighty beast of all nostalgia, it has a pretty solid chance to win the royale!
DragonPhoenix: And what if you do win? What are you going to do with the prize money?
ShinyLucario:
I don't have a clue what to do with 2,000 Psybucks, so I'll just stash it in the bank and watch it rot maybe I could give them out in a game like Cherrygrove?
DragonPhoenix: Well I'm sure you'll find good use for it! Anyway best of luck for both you and Charizard, hopefully you and Arcanine and come up with a great gameplan to see yourselves through!
SEMIFINAL 2: [2] ARCANINE VS [6] CHARIZARD
Arcanine's Intimidate cut's Charizard attack to -1!
Charizard used Swords Dance! Charizard's attack rose 2 stages to +1!
Arcanine used Agility! Arcanine's speed rose 2 stages to +2!
Arcanine used Thunder Fang! Charizard's Wacan Berry activated! Charizard took no damage!
Charizard used Rock Slide! Arcanine's hit with -2...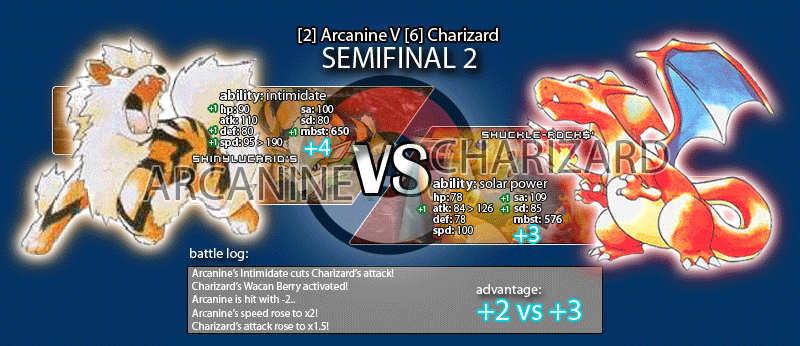 COMMENTS: A bit of a more even match up this round, with only 1 vote separating the two big fire types! Swords Dance not only nullifies Intimidate's cut of attack, but even pushes Charizard's own attack stat ahead of Arcanine's. Agility allowed Arcanine to strike first for the second attack, preventing any hope Charizard had to cause flinching. With some clever prediction, Charizard's Wacan Berry nullified the super effective Thunder Fang, however he must now be wary as he's left without a Hold Item now! Expect a tight finish between these two!
INTIAL SCOREBOARD
S2:
+2 |
+3
So this will be open for a few days, then the 48 hour attack will be dealt in (along with the sponsors two extra moves), and anonymous voting will only be revealed at the very end!