STANDARD VOTING: Arcanine def. Haunter 6-4
POLL VOTING: Arcanine def. Haunter 7-4
ANONYMOUS VOTING: Arcanine def. Haunter 4-1
OVERALL, and CHAMPION OF THE 1ST BATTLE ROYALE:
ARCANINE
def. Haunter 17-9
Congratulations to ShinyLucario and Arcanine! He's managed to beat the 15th seeded Butterfree in an easy 2nd round match, before sneaking in against the 7th seeded Dugtrio in the Quarterfinals, escaping by 1 vote. In the semis, he beat out Charizard 10-7, before coming home with a comprehensive win over Haunter. Congratulations also go to the runner up, DragoBoy and Haunter, who have also had an excellent run.
Here's the wrap up:
ROUND 1
There were upsets left right and centre, the most noticeable one being Cubone knocking out the number 1 seed Gengar, to completely blow the top half wide open. Pikachu knocked out 4th seed Nidoking, and Ninetales knocked out 5th seeded Alakazam. This meant that in the top half of the draw, Venusaur the 9th seed was the only seed remaining. The bottom half was a more even affair, with Blastoise powering home and 10th seeded Sandslash making a big statement, most results as expected.
ROUND 2
Haunter quickly proved he was a force to be reckoned with, avenging his older brother's demise by beating out Cubone by a whopping 13 votes. Beedrill emerged as a favourite, with fans popping out for the King Bee left right and centre, which helped in his 12-9 defeat over Ninetales. Arcanine solidified his 2nd seed position, annihilating 15th seeded Butterfree by 10 votes, and all the Sandslash fans were left shaking their heads over what seemed like a guaranteed victory for the shrew - before Dugtrio edged through thanks to some anonymous voting. Perhaps the tightest match of all: Bulbasaur and Charizard tying it out, before the great firelizard sneaked in on a Tiebreak vote, setting up one heck of a Quarterfinal.
QUARTERFINALS
Once again, outrage shook the arena as Pikachu just got over the line over crowd favourite Beedrill in a last minute appeal. Arcanine managed to fend off a final push from the Dugtrio supporters, whilst Charizard overcame his type weakness to defeat the great water starter Blastoise.
SEMIFINALS + FINAL
A comprehensive win over Pikachu gave Haunter the first spot into the final, whilst Arcanine had to work a little harder for his win. With Haunter and Arcanine head to head, it looked like it was all over before it began, with Arcanine surging up to +5 votes ahead before anyone even voted. However with some luck coupled with some clever decisions, Haunter managed to make it competitive, keeping it within 2 votes near the end. Arcanine proved too strong in the end though, managing to win the poll vote and the anonymous vote too.
(for all results, please refer to the first post)
PRIZE BREAKDOWN (When I get enough Psybucks.. or to be edited because obviously I don't have this much anymore...)
CHAMPION: ShinyLucario (2000 Psybucks) | Arcanine
RUNNER UP: DragoBoy (1000 Psybucks) | Haunter
SEMIFINALISTS: Cherrygrove | Pikachu, Shuckle-rock$ | Charizard (500 Psybucks)
QUARTERFINALISTS: Super_Typhlosion | Venusaur, JsXtm | Beedrill, DragoBoy | Dugtrio, Samurott | Blastoise (200 Psybucks)
So I guess we finally made it to the end! Congrats to all the winners and thanks for everyone who voted and participated. Hopefully next time (YES there WILL be a season 2, thanks to everyone who has asked + stirred interest) since I have figured out how all the rounds can be played it will make much more sense. I'll let you know now that season 2 will comprise of Pokemon 109-251 on the Pokedex, and will run in a similar format. After the release of BW2 as a tentative date, but however I will be opening a position for co-host (because I can't do it all on my own it takes too long).
Until next time... thanks for playing!
PS: If you have any further questions just let me know
~DragonPhoenix
_________________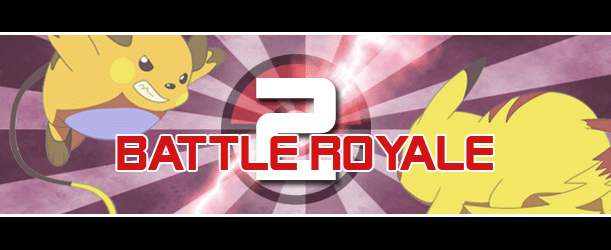 Sponsor a pokemon today to guide them through the knockout tournament! (2,000 Psybucks up for grabs)