FINAL RESULTS:
M5:
[10] AERODACTYL
def. Politoed (5-3)
M6:
[2] MEWTWO
def. Snubbull (4-3)
ROUND 2 PART 3
MATCH 7: MEGANIUM VS [6] TYRANITAR
COMMENTARY: These two final stage evolutions are ready to duke it out! Can Meganium overpower the serial sandstreamer and use her type advantage to make the most of her matchup? Tyranitar is a fierce competitor and is seeded 6th for a reason - he could very well take home the BR title! The two are very evenly matched at the moment so it's hard for me to pick out who will progress - if I was a betting man though I'd pick Tyranitar - I think his raw strength will encourage supporters to back him up even more!
DP's PICK: Tyranitar
MATCH 8: MAGIKARP VS [14] SCYTHER
COMMENTARY: Scyther is my favourite Pokemon remaining, so naturally I would like him to progress. What's there not to like about him? I mean come on he has SCYTHES for hands, that is just too cool. And his handy Technician ability turns him into a monster throughout HGSS. But he's up against the underdog Magikarp, who despite his lack of movepool, could gather an underground following! However he's got to make up a 3 vote deficit - can the seemingly useless carp have the charisma and charm to win over some extra votes?
DP's PICK: Scyther
Remember you get only 1 vote per group, counts as 3 if you've sponsored a Pokemon, and if you want to play with extra votes, you do not post in here, but rather you PM me! (These will not be revealed until the end of the round. Be careful with what you do as there are no change of minds in terms of voting!) As always, I enjoy reading your reasons of your votes, so put them down (not compulsory). Please refrain from editing your votes because then I have to scroll around and readd everything and I might just make mistakes with my math...
A gentle reminder that if you are anonymously voting for your own sponsored Pokemon, then the maximum on that Pokemon is 40PB.
If you are anonymously voting for a Pokemon you're not sponsoring, then the 100PB limit will still apply as per usual.
VOTING STARTS NOW! WILL LAST 3-4 DAYS. Ill be updating the scoreboard if I see fit, but not all the time.
Also remember that with 48 hours to go we also have the random attack on the arenas.
PRELIM SCOREBOARD
M7:
+2 |
+2
M8:
+0 |
+3
Happy voting!
_________________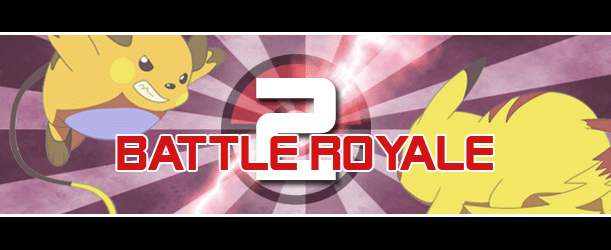 Sponsor a pokemon today to guide them through the knockout tournament! (2,000 Psybucks up for grabs)